Fashion inspired by speed, skill and grit
The Evel Knievel™ Collection
The Shelby American™ Collection
Our clothes tell stories
Red X Thread is a premium lifestyle brand for the automotive enthusiast. Quality, comfort and craftmanship is woven into every garment - a tribute to the heritage brands we represent.
Passion & Design
A 'red thread' in storytelling is the theme that connects characters, places and events. Over a 20-year career, the red thread pulling Matthew Labutte forward has been the world of design and a passion for all things automotive.

Read more…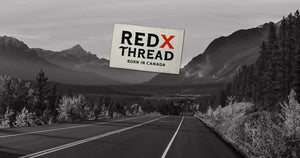 Pride & Integrity
Our goal is to create high quality and comfortable clothing. Honest products that make people feel good - about making them, seeing them and wearing them.
IT ALL STARTS RIGHT HERE IN CANADA…