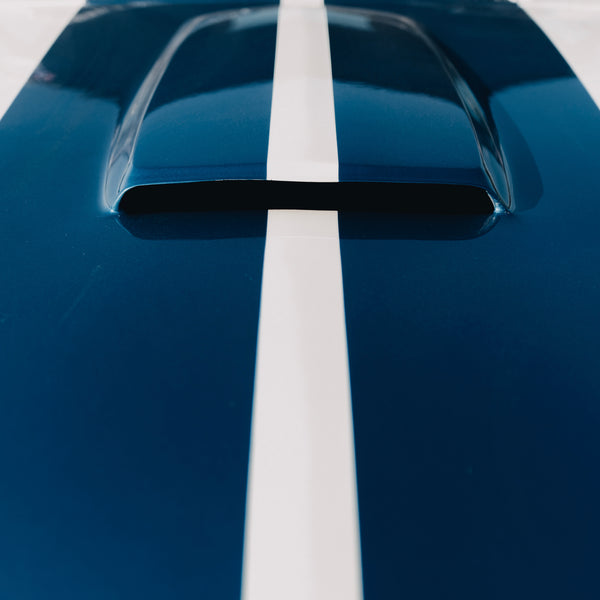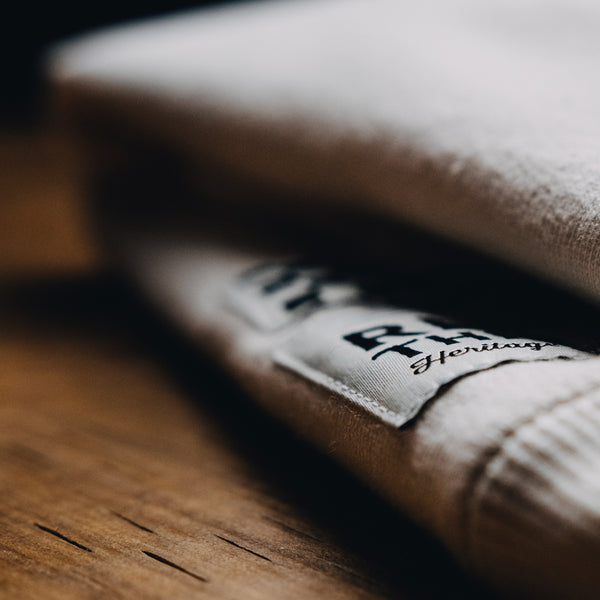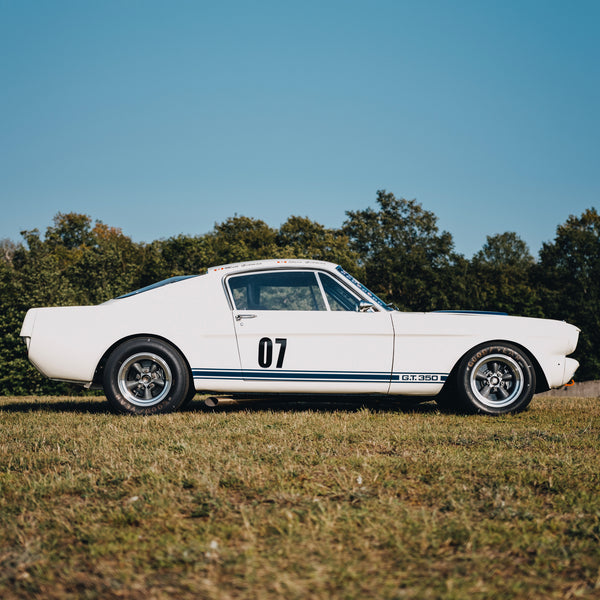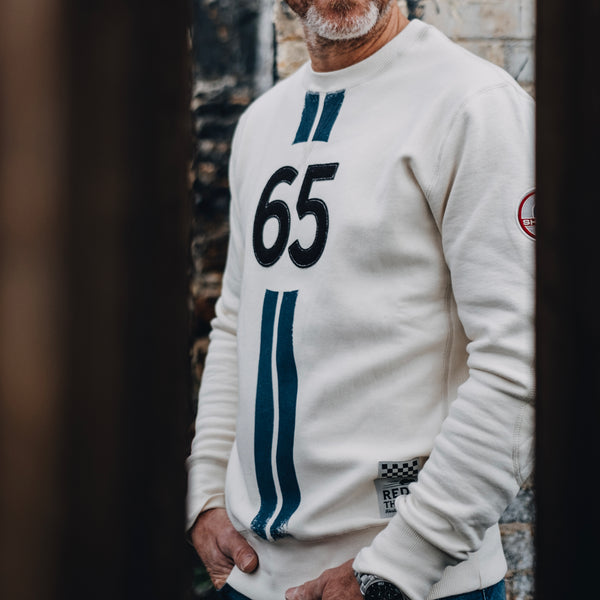 The Thoroughbred
Not just ANY old sweatshirt

You can hear the roar of the V8 and smell the gas and oil. It screams racing heritage with its Le Mans stripes and race numbers.
This is YOUR old sweatshirt. The one you will keep forever because it gets better and better over time. This is built to last.
100% cotton, because there's nothing like it
Stylish v-notch, old school style
Side rib panels, so it stretches with your movement
Diamond quilted elbow patches
Durable 1x1 rib neck, longer cuffs and taller waistband
G.T. 350 print on the inside neck yoke
*Designed for a comfortable and relaxed fit.

INSPIRED BY THE SHELBY G.T.350 MUSTANG, READ THE STORY BELOW
Washing Tip
Your Thoroughbred Crewneck has embroidery and felt appliqué.
While durable for machine wash, we suggest washing inside out, cold (30°) and lay flat to dry.
Sizing Chart
In order to best determine fit, we advise comparing our garment's measurements to a similar garment you already own. Lay your garment flat and take all measurements from the outside of the garment. *Designed for a perfect fit on an average body type. Size up if you like a loose or baggier fit.
Easy 30-day Returns
You are welcome to exchange product for product, or store credit, within 30 days from purchase with original or email receipt. Alternatively, you may return products for a refund within 14 days from purchase with original or email receipt. Items must be unworn, unwashed, unused and have the original tags intact. Please note customer is responsible for shipping costs of online returns.

Our Shelby American™ Collection is inspired by Carroll Shelby and his legacy of high performance vehicles.
On April 17, 1964, the Ford Mustang debuted at the World's Fair in Flushing Meadows, NY. That same day, the new notchback appeared in Ford showrooms across America and close to 22,000 models were sold. The new Mustang was a success, but there was unfinished business for the Ford Motor Company.
The Chevrolet Corvette was dominating the sports car scene and Ford needed a response. Eight months later, they had it: the Shelby GT 350 Mustang. Armed with a 306-horsepower V-8, this modified version of the Mustang was a hit, capturing the SCCA B-Production Championship for three straight years.
The details tell a story
It's a fascinating process, the building of a garment. It starts with fabric, cut into pieces that pass through many hands, stitched thousands of times and scraped with ink.
But in the end, it becomes greater than all its parts. It tells a great story of design, craftsmanship and passion.
The chicken farmer
While tending to his chickens, Carroll Shelby's wife casually reminded him, "…don't you have a race to go to?".
Arriving late, with no time to change, he made his way straight to a first place finish – still wearing his hickory denim overalls. He made this 'fashion statement' his signature racing attire.
With a nod to his quirkiness, we've integrated the hickory striped pattern into the neck panel of this sweater.