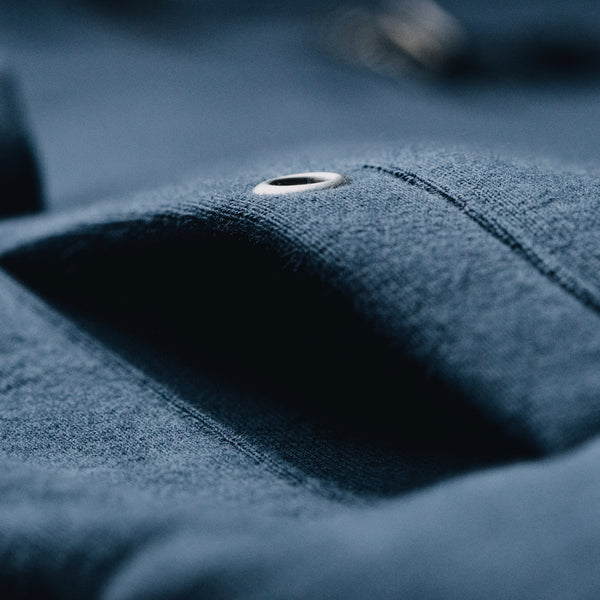 The Original
It's 1962…

…you hear the clink of ice in a cool cocktail, music fills the air – a dark figure catches your eye, mysterious, debonair type.
You think to yourself, "that's a real nice sweater". You take in the details and it dawns on you, "HE's the one driving the fab Cobra MKI roadster parked outside". That is one cool cat.
LIMITED EDITION

100% cotton fleece

Heavy weight, perfect for driving with the top down

Mid-century inspired cut

The details…where do we even start?

We all love large pockets, and with metal grommets

Heavy duty zipper with distressed leather pull

Superb craftsmanship
INSPIRED BY CARROLL SHELBY'S ORIGINAL COBRA, READ THE STORY BELOW
Washing Tip
Your Luxe Bomber Sweater has lots of embroidery and felt appliqué.
While durable for machine wash, we suggest washing inside out, cold (30°) and lay flat to dry.
Sizing Chart
In order to best determine fit, we advise comparing our garment's measurements to a similar garment you already own. Lay your garment flat and take all measurements from the outside of the garment. *Designed for a perfect fit on an average body type. Size up if you like a loose or baggier fit.
Easy 30-day Returns
You are welcome to exchange product for product, or store credit, within 30 days from purchase with original or email receipt. Alternatively, you may return products for a refund within 14 days from purchase with original or email receipt. Items must be unworn, unwashed, unused and have the original tags intact. Please note customer is responsible for shipping costs of online returns.

Our Shelby American™ Collection is inspired by Carroll Shelby and his legacy of high performance vehicles.
In late 1961, the first production car in the legacy of Carroll Shelby ran under its own power. At the time, chassis number CSX 2000 featured a 221-cubic inch Ford V-8 installed in an AC Ace. The chassis was then shipped to America in early 1962.
CSX 2000 was matched with a new Ford engine, a 260-cubic inch V-8. This special V-8 featured some high performance upgrades, like a four-barrel carb and more aggressive cam. Net result: somewhere between 250-260 horsepower.
The CSX 2000 remained in Shelby's personal collection for decades, a testament to its importance—he even turned down an all-cash $5 million offer to sell it. As the Shelby CSX 2000 car sits today, it's breathtakingly original in its execution and an incredible example of the Shelby American craft.
The details tell a story
It's a fascinating process, the building of a garment. It starts with fabric, cut into pieces that pass through many hands, stitched thousands of times and scraped with ink.
But in the end, it becomes greater than all its parts. It tells a great story of design, craftsmanship and passion.
The chicken farmer
While tending to his chickens, Carroll Shelby's wife casually reminded him, "…don't you have a race to go to?".
Arriving late, with no time to change, he made his way straight to a first place finish – still wearing his hickory denim overalls. He made this 'fashion statement' his signature racing attire.
With a nod to his quirkiness, we've integrated the hickory striped pattern into the neck panel of this sweater.