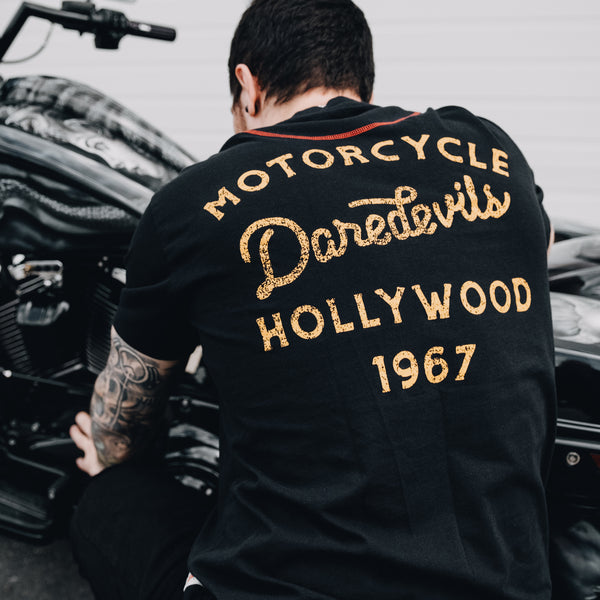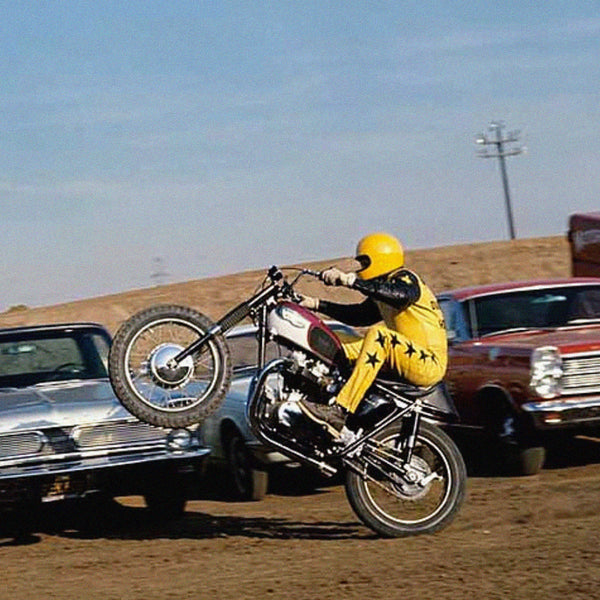 The Showman
"Anybody can jump a motorcycle. The trouble begins when you try to land it." - E.K.
Anybody can print a cheap T-shirt. OUR shirts are called the 'Legacy Tee' for good reason. It took trial and error to develop our custom tailored fit, a perfect balance of weight and comfort. You're welcome.
Super fine 100% cotton jersey

Contrasting neck insert

'Evel' Felt Appliqué on left chest
Old school soft print, shoulders and back
Pre-shrunk for lasting fit

Hand-forged with pride

INSPIRED BY THE BIRTH OF A DAREDEVIL, READ THE STORY BELOW
Washing Tip
Your Legacy Tee has embroidery and woven tags.
While durable for machine wash, we suggest washing inside out, cold (30°) and lay flat to dry.
Sizing Chart
In order to best determine fit, we advise comparing our garment's measurements to a similar garment you already own. Lay your garment flat and take all measurements from the outside of the garment.
Easy 30-day Returns
You are welcome to exchange product for product, or store credit, within 30 days from purchase with original or email receipt. Alternatively, you may return products for a refund within 14 days from purchase with original or email receipt. Items must be unworn, unwashed, unused and have the original tags intact. Please note customer is responsible for shipping costs of online returns.
Our Evel Knievel™ Collection is inspired by his legacy, a symbol of bravery and adventure.
At eight years old, Bobby Craig Knievel attended a Joie Chitwood Auto Daredevil Show. The American race car driver and daredevil inspired Knievel to race his bicycle around his grisly, mining-scarred hometown of Butte, Montana.
His passion for motorcycles led to the debut of 'Evel Knievel and his Motorcycle Daredevils' on January 23, 1966, at the National Date Festival in Indio, California. Evel performed wheelies, crashed through plywood firewalls and jumped over two pick-up trucks. The show was a huge success. 
New Year's Eve 1967 was the first of his most famous stunts at Caesars Palace in Las Vegas, a 141ft motorcycle jump over the hotel's iconic fountain. It did not go as planned, with Knievel crashing upon landing. He suffered severe injuries but the televised crash brought Knievel's fame to a whole new level.
The details tell the story
It's a fascinating process, the building of a garment. It starts with fabric, cut into pieces that pass through many hands, stitched thousands of times and scraped with ink.
But in the end, it becomes greater than all its parts. It tells a great story of design, craftsmanship and passion.