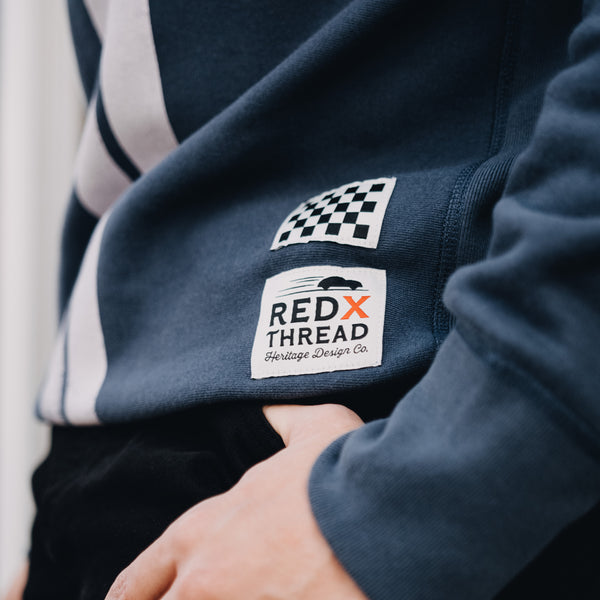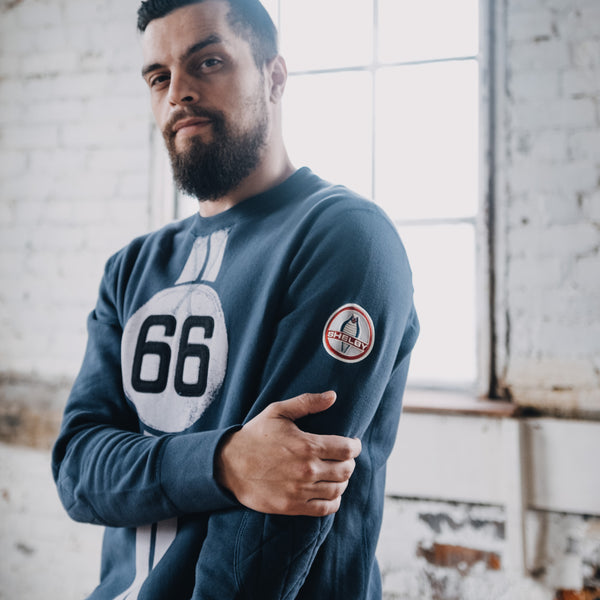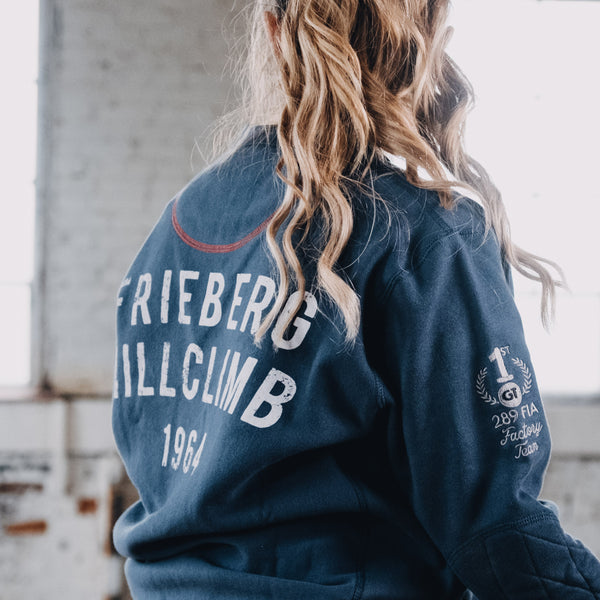 The Hillclimber
The classic sweatshirt

You can hear the roar of the V8 and smell the gas and oil. It screams racing heritage with its Le Mans stripes and race numbers.
Classics never die. This one you will keep forever because it gets better and better over time. It is built to last.
100% cotton, because there's nothing like it
Stylish v-notch, old school style
Side rib panels, so it stretches with your movement
Diamond quilted elbow patches
Durable 1x1 rib neck, longer cuffs and higher waistband
Made at a local factory in Toronto, Canada

*Designed for a comfortable and relaxed fit. Size down for slimmer/European fit.
READ THE STORY OF THE FIA SHELBY COBRA CSX2345 BELOW
Washing Tip
Your Hillclimber Crewneck has embroidery and felt appliqué.
While durable for machine wash, we suggest washing inside out, cold (30°) and lay flat to dry.
Sizing Chart
In order to best determine fit, we advise comparing our garment's measurements to a similar garment you already own. Lay your garment flat and take all measurements from the outside of the garment.
Easy 30-day Returns
RETURNS & EXCHANGES
You are welcome to exchange product for product, or store credit, within 30 days from purchase with original or email receipt. Alternatively, you may return products for a refund within 14 days from purchase with original or email receipt. Items must be unworn, unwashed, unused and have the original tags intact. Please note customer is responsible for shipping costs of online returns.

Our Shelby American™ Collection is inspired by Carroll Shelby and his legacy of high performance vehicles.
Bob Bondurant's very first hill climb was on August 8th 1964, in front of 60,000 spectators at Frieberg. Driving CSX2345 (#66), he set a new course record for his class. Beating Scarfiotti in a Ferrari GTO, he finished 4th overall against specially developed machinery driven by Europe's best.

The 1964 FIA Cobra Roadster CSX2345 is one of five original 289 factory Shelby team race cars – it has won more class titles than any other Cobra. Amazingly, it has survived, unrestored. It remains as it was in 1965 when Bob Bondurant drove it to a 1st place GT Class win at The Rossfeld Hill Climb.

The 4.0-liter CSX2345 and team of drivers, Bob Bondurant, Phil Hill, Sir John Whitmore, Roy Salvadori, Jack Sears and Jochen Neerpasch formed a vital part of the Shelby American team that won the 1965 Manufacturer's World Championship.
The details tell a story
It's a fascinating process, the building of a garment. It starts with fabric, cut into pieces that passes through many hands, stitched thousands of times and scraped with ink.
But in the end, it becomes greater than all its parts. It tells a great story of design, craftsmanship and passion.